Taylor's Lakeside Campus held their open day since Friday until earlier today. I'm sure those of you interested in studying at Taylor's would have already dropped by the campus, right? If not, it's your loss. But no worries because I'll be showing you here what you can expect when you enroll in Taylor's University Lakeside Campus.
These are few pictures from the open day held earlier, looked awesome right? Heck, they even hired a Taylor's University hot air balloon just for the open day! Hmm, I wonder how much does it cost anyway.
Since I'm a current student in Taylor's School of Communication pursuing Bachelor of Arts (Communication & Media), it would be sensible that I introduce you to some of the places that Communication students would always hang out throughout the study period at the Taylor's Lakeside Campus.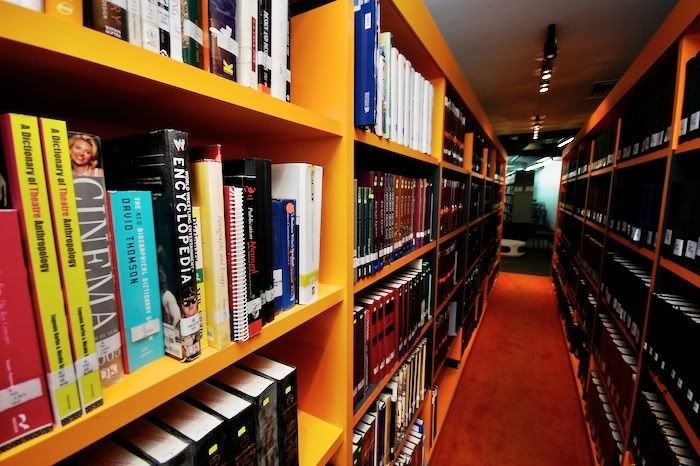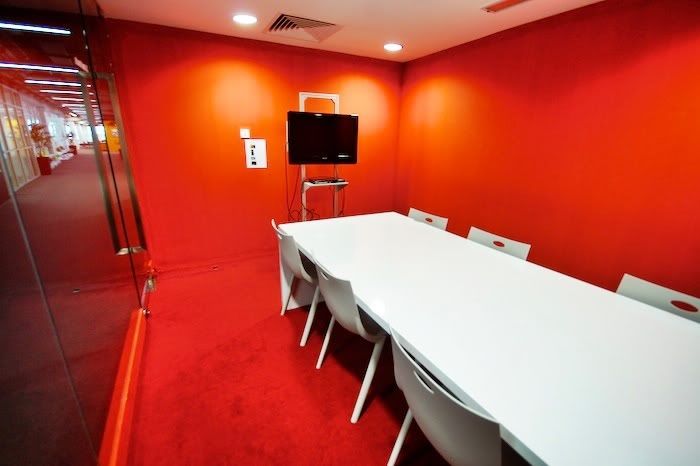 I've brought many friends to Taylor's Lakeside Campus library and many have said that they are impressed and in awe of the library! Some even told me they wish to transfer to Taylor's University because the 4-storey library itself is already so damn cool, packed with various facilities, resources, computers, and many more! There are also various types of closed discussion rooms and study room in the library itself which allows you to have discussions among your friends without interrupting other people in the library.
Apart from that, they also have this 24/7 study room beside the library where the place is actually opened 24 hours everyday for students to study! So if you're facing an exam the next day and you're afraid that you might wake up late, come early to 24/7 study room the night before! Haha I'm just telling you an alternative, don't overnight at the study room everyday okay?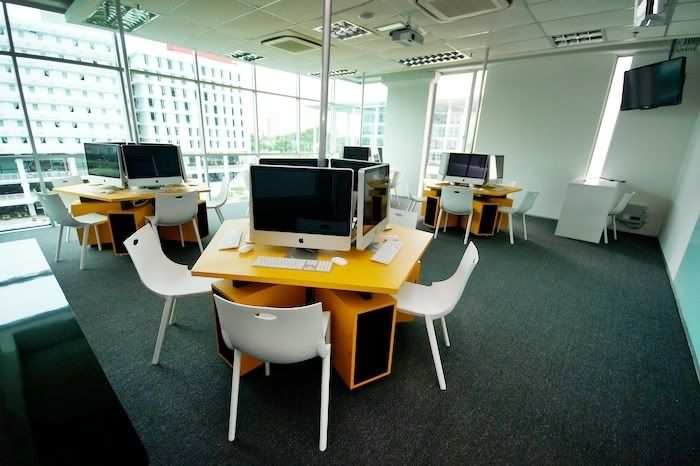 Most of the time apart from having classes in classrooms and lecture halls (and chilling out in the library during free time), I spent a lot of time in the computer lab / media hub / iMac studio or whatever you wish to call it. Be it for classes or just chilling out, it's a suitable place to stay in to log on Facebook do your assignments. They are meant for us Communication students to make use of; I mean, hospitality students don't need to use Mac, business & accounting students don't need to use Mac also, architecture students use software on Windows, and urmm… others also la you get what I mean? Whereas for us Communication students, we are required to make full use of the iMac provided in certain subjects throughout our course (eg: Music Sound Studio, Intro to Digital Media, News Design for Print and Web, etc.)
Apart from the many many many Mac labs available in the campus, School of Communication also have a few other facilities specially for us to make use of. We have the Audio Recording Studio to hands-on audio production work like the one below…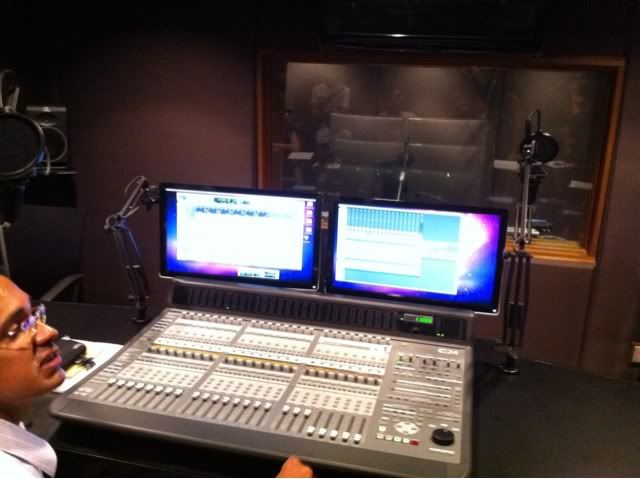 Audio & Video Editing Lab with well-equipped editing workstations, Newsroom as the workstation specifically for Journalism students, Project Room with various workstations as well as the Propassion Consultation Suite where it is specifically designed for students to experience the real life challenge of a Public Relations consultancy.
Basically, those mentioned were the specific facilities catered for the School of Communication students. Of course, Taylor's University also provide many other facilities in-campus such as Sports & Recreation Centre (basketball court, futsal court, tennis court, etc.), Student Life Centre (pool table, foosball, table tennis, etc.), Syopz Commercial Block (Starbucks, Subway, Wong Kok, Famous Amos, Old Town White Coffee, etc.)
So I've been talking about the super cool facilities provided in Taylor's Lakeside Campus all these while, it's time for me to briefly introduce the School of Communication program. Thus far, they are offering four courses:
-  Foundation in Communication
-  Diploma in Communication
-  Bachelor of Arts (Communication & Media Management), UniSA Australia
-  Bachelor of Arts (Journalism), UniSA Australia
However, I overheard that there would be new specific major degree courses by Taylor's University coming up in 2011. Means now you won't be restricted to only two choices for bachelor degree (like me), but you can now choose to pursue specific major such as Degree in Broadcasting, Degree in Public Relations, Degree in Advertising, etc. All these just when I'm about to finish my degree course, sigh. You lucky bunch of new Taylor's University students, you better appreciate this opportunity lol.
All in all, if you are planning to pursue your studies in Taylor's University and happened to be interested in the School of Communication, feel free to contact me. I would be glad to answer your queries if I am able to. For more info, log on to www.taylors.edu.my
P/S: Also if you're planning to register in Taylor's University, please let me know! I'll get the student referral bonus and we share half half okay? Hahaha =D
And also, those who are interested to learn more are encouraged to visit the Taylor's University Campus Day at the Lakeside Campus from 8th January to 9th January 2011, 10am to 5pm.
← Back