I have recently started using ChatOn application by Samsung (read here: http://bryanlyt.com/2013/04/chaton-by-samsung/) and it has been a fun and great app to use thus far! ChatOn is a useful way to chat with your friends and it is compatible with almost all leading mobile platforms namely Android, iOS, Blackberry and Windows. However, what makes ChatOn different from sending an email or a text message for free is that it is MORE than just a text messaging service. It allows us as users to let loose our creativity and communicate in a much more personal way than a text message or any other messaging service.
One of my favourite feature in ChatOn is the Animation Message ; it allows us to express ourselves in a way which other messaging platforms don't allow. It would be much convenient if you're using a Samsung Galaxy Note then you can write or draw your animation with the S Pen (though using a finger works quite well too). It also offer a large array of colors, pen types and nib-sizes for us to play with. Imagine if you're an art student then you can instantly draw your friends' portraits on your smartphone to impress them! Ahh, how I wish I had talent in drawing…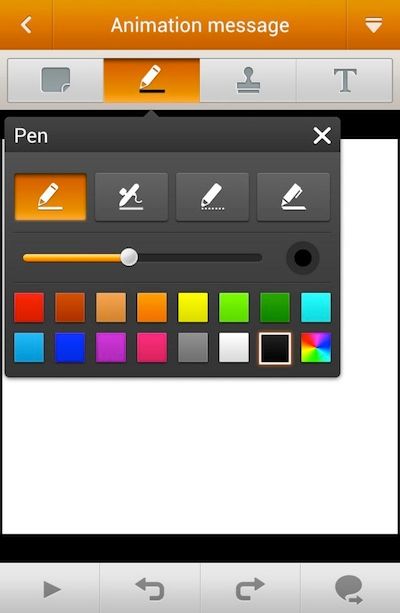 Another thing is that ChatOn allows us to record voice messages to share with your friends, location sharing as well as calendar appointments sharing with each other. Voice messages feature is a fun tool, acting as a walkie-talkie talking to your friends. The location sharing feature also definitely comes in handy for me as I always have friends who had trouble locating my house and location sharing would come in handy. ChatOn makes it easier for me to share calendar appointments with my colleagues and friends too.
ChatOn also has this feature called Buddy Interaction. It shows us which friends we chat with most frequently and makes a 'game leaderboard' out of our interactions with our buddies. This is one of the feature that is not present in any of the existing mobile messaging platform out there right now. However, personally I am not a fan of this as I can't see why this feature is needed. It might be to encourage us to use the service more and get competitive for interacting with our buddies, but surely all this sort of thing can do is increase narcissism? Hahaha but yeah it's a fun feature to have anyway. Probably some people did like this feature and might be constantly monitoring it, right?
Basically ChatOn has everything we need in a mobile messaging application + a few new features which aren't provided by the current most used Whatsapp Messenger. A few other features that I like from ChatOn is the ability to hide my number, adding friends by ID instead of just contact number (it works both ways), enhanced privacy options such as Password Lock (so that our friends don't simply read your messages) and the extra cute Anicons.
So what do you think of ChatOn? Will you move on to ChatOn? Let's ChatOn lah